Masters almost every task
No other vehicle in its class combines versatility, flexibility and solidity as perfectly as the Caddy Kombi. The hard-wearing interior can be extended from five up to an optional seven seats, and, with just a few adjustments, can also be converted into a 2-seater with a 3.2 m3 load compartment if you need to deliver larger goods or materials. Even smaller items can be quickly and securely stowed away.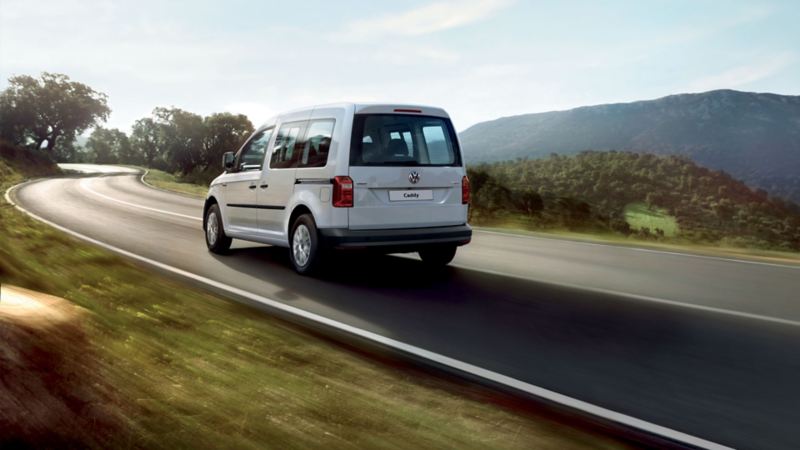 Convenience

Learn more about how this Volkswagen is specifically designed to adapt to your every day.
Comfort
Discover how this Volkswagen can drive you beyond your comfort zone without ever compromising on elegance.
Safety

Learn more about the most innovative and intuitive electronic safety features that come standard.
Ideally organise your daily work
The Caddy Kombi features a variety of different storage areas, so that you can concentrate on the important aspects of your work. Whether work gloves, folding rules or a lunchbox – everything has its own place here.
In your job, every move has to be exactly right. The Caddy Delivery Van and the Caddy Kombi offer you the support you need, with a storage system made up of several storage compartments and surfaces of varying sizes. Take, for instance, the roof shelf, which extends across the full width of the vehicle, and opens directly above the driver and front passenger seats. Invisible from outside, it offers sufficient space for work gloves, a folding rule or a lunchbox. The storage pockets in the doors can hold a 1 l bottle each, while the centre console is equipped with four cup holders. For the first time, two open glove compartments are also included. This keeps everything in the right place.
Storage package. This includes a lockable glove compartment, a closable storage drawer cover, storage compartments under both front seats, and a luggage net attached to the roof pillar.
Enjoy a comfortable working climate